10 Reasons to Choose Online Yoga Teacher Training
Last updated: October 13, 2021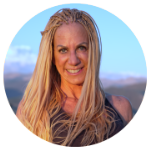 By Lori Lowell, Drishti Beats mentor, co-founder and fitness visionary, is the  2015 Julie Main Woman Leader Award recipient. She often interviews for Ask An Expert in Club Solutions Magazine, regularly appears on Club Industry, and is an accomplished E-RYT 500.
---
Let's face it; Online learning is here to stay, and online yoga teacher trainings have recently become Yoga Alliance accredited. Here are 10 reasons why online yoga teacher training is an excellent option. Keep in mind that it's most important to choose an online yoga school that will stay in contact with you and make sure you stay on track.
Online Yoga Teacher Training Benefits
The best online yoga programs are self-paced.  You can turn your learning on and turn it off when you want to, and you can manage your time and hours that are best for you. 
In the live setting, you are in the learning space for many hours in one day and it's difficult to maintain focus. This is true also of 8 straight hours of a zoom call which should not be considered online learning. Both

200hr-RYT® and 300hr-RYT® yoga teacher trainings

are comprehensive and require a lot of patience and attention. In the correct online setting which provides video learning you can progress in shorter learning periods and go over concepts that may not sink in the first time you hear or read about them.  In the online learning space you are sure to capture all the information.

It's not just about learning poses. With the Yoga Alliance accreditation requirements, schools must teach a certain number of hours in anatomy and physiology, teaching methodology, practicum, yoga ethics and lifestyle.  Schools also must teach a lot of history and philosophy, and the

best online yoga teacher training programs

prepare you to be knowledgeable and masterful yoga teachers. 

Online learning allows for more space to read and capture content.  Most schools require students to take on some very interesting and robust books:  Mainly the Yoga Sutras of Patanjali and the Bhagavad Gita, both which take some time to wrap your brain around.  With online learning you will have more time to evaluate and understand these books as they are critical for living in the yoga teaching and yogic lifestyle space.
In the online learning space, you can pick your learning environment. Teaching environments can be difficult in the live space which may not be conducive to learning for all students; usually sitting on the floor for many hours.  Many destination trainings are in beautiful locations, but the days can be long and hot with uncomfortable seating.
Online yoga trainings are more student focused while live trainings are more teacher focused. When learning in the live space the lead trainers are in front of the class all day long focusing on their material, lectures, PowerPoints, etc.  It's a long day for the teacher and usually the latter half of each day is where the students are practicing while the teachers are watching, providing feedback, and evaluating.  It's a burnout for the teacher and focus may get lost.  In the online space of the good schools, the material has been prepared and is delivered in video form. Short, fun, and concise videos make learning easy. In the online learning space, the lead trainers can focus more on the student and not on their delivery of content each day.
Cost. Do you want to go to a

yoga teacher training in Bali

? Of course, you do.  It's probably going to cost you in the upper $6000 range for the training, hotel and flights and you will have to take off at least 3 weeks off work.  Most online Yoga Teacher Trainings are under $1000.00.  However, be very cautious of the ones that are too inexpensive (less than $500.00) as they may be too lenient, material too thin, and may not truly prepare you for your future as a teacher.  Inexpensive yoga schools are looking to get a lot of students which can be an issue for your learning and much needed attention from your lead trainer. Written feedback as well as constant contact are a must for any kind of online yoga teacher learning.

Yoga Alliance requires Contact Hours in the online space.  This is usually done by group zoom calls and one on one calls with your lead trainer.  If the calls are set up properly, a beautiful community of trainees is built, and relationships as well as friendships develop.
Quality of teacher upon graduation.  The good online schools truly prepare you to become a knowledgeable yoga teacher due to how the learning is delivered and your ability to constantly review. The online space could very well turn you into a better teacher than in the live space.  The reason for this is that in the live learning space content is crammed into a very short time, and if you miss a point, or don't understand something, it just may float by. Yes, destination trainings are amazing.  At the same time, too much is delivered in too little time.  Upon graduation in the live space, it is a fact that many students are not ready to teach. The best online yoga schools prepare you along your journey by having you upload videos of yourself teaching along the way; so that when you are finished you have created an entire class that is thorough.  Between your video and written submissions, a good yoga school will provide feedback and discussions with you to ensure that you are growing in the teaching space. Students do not get left behind because the best online yoga teacher training programs create a personal and private learning experience for each student.
Less drama.  There can be a lot of drama in the live learning space, especially the destination trainings which can make the learning environment difficult. It is usually inevitable that some kind of drama occurs, which is usually negative. This is completely avoidable in the online space by giving students more individualized attention and allowing them to grow at their own pace. 
Finding the Right Online Yoga Teacher Training Program
When selecting an online Yoga Teacher Training Program do your research.  The following may be helpful:
Find out who the teachers are? Read their bios and learn about them. Decide if they are the right teachers for you.

 Check out their website.  How does the site feel to you?

Ensure that the school is accredited by the Yoga Alliance and that the teachers are current in their standing.

Ensure that the lead trainers are E-RYT 500®. This means that they have completed and are certified as an advanced teacher and have acquired thousands of teaching hours.

Pick a school that has options for a 200-hr and a 300-hr training and one where you may also choose the option of doing a 500-hr training.  This also shows that the teachers have continued their own training and development.

Pick a school that allows you to begin your training at any time.  These schools usually have a very strong ability to manage their program and their students

R

ead the reviews

on the school's Yoga Alliance page.
Take some time to chat with the school, and the lead trainers, in advance.  If it's a good school, you will be able to contact them immediately via the chat on their website or by e-mail. Even better, if you need to hear their voices, they should not be averse to a phone call. Immediate communication is critical in the online space.  Waiting too long for a response from a school is a red flag. Quick communication from the school will ensure that they are on point and living in their online program all day every day. 
Drishti Beats' online yoga teacher training programs offer all of the listed benefits and go beyond other programs by striving to create a sense of community that helps you along your journey. Check out our online programs to learn more about becoming a yoga teacher.
---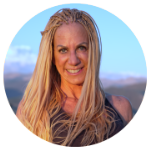 By Lori Lowell, Drishti Beats mentor, co-founder and fitness visionary, is the  2015 Julie Main Woman Leader Award recipient. She often interviews for Ask An Expert in Club Solutions Magazine, regularly appears on Club Industry, and is an accomplished E-RYT 500.